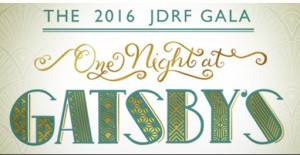 JDRF, an organization dedicated impacting the lives of millions of children, adults, and families affected by type 1 diabetes (T1D), will be holding their 2016 JDRF Central PA "One Night at Gatsby's" Gala on Saturday, April 16, at the Hershey Lodge and Convention Center in Hersey, PA.
Celebrating their 15th anniversary, the gala has come to be known as Central PA's premier benefit, and this year they are honoring CEO James Valvano of T.S.E. Inc. and Stonerun Trucking.
Well known for its exquisite themes and décor, this popular event has sold out the last two years. Featuring unique live and silent auctions, live entertainment, and much more, the 2016 JDRF "One Night at Gatsby's" Gala is an evening you won't want to miss.
JDRF has been a champion for the millions of children and adults challenged by T1D, and every detail of this incredible organization is guided by a simple goal which is to lessen the tremendous daily burden of this disease until it is no more.
In order to support JDRF in their efforts, Bill Rinaldi is now an official sponsor of the upcoming event, which provides the organization with funding to not just deliver hope, but a series of life-changing therapies that will make the burden of T1D less and less.
We encourage you to join the fight by supporting JDRF as they strive to remove the daily burden of managing this complex disease through better treatments like smart insulin, an artificial pancreas, or encapsulation therapy while relentlessly pursuing a cure.
For more information on the JDRF Gala and to find out how you can offer your support in their fight to alleviate the burden of managing T1D, visit drf-centralpa.ejoinme.org.